2023 Paid Holidays: A Guide For Dental & Healthcare Practices
Everyone looks forward to a holiday, especially when it's considered paid time off. However, many employees are shocked to learn that no federal law or regulation mandates employers to offer this benefit.
In fact, businesses are under no obligation to pay their team for hours not worked during holiday closures.
What HR Experts Recommend
Paid time off (PTO) is a benefit allotted to most employees. PTO allows your team to relax, recharge, and achieve a healthy work-life balance. This is especially important in the dental, optometry, medical, and other healthcare fields where caring for patients doesn't leave much time for caring for yourself.
Many healthcare practices, businesses, and HR professionals find closing during a federal holiday is right. In a recent study, extra paid time off for holidays is one of the benefits employees list as appreciating the most, and an easy way to attract and retain top talent as an employer.
What's New for 2023? What You Need to Know:
Whether you decide to offer paid time off for holidays or not, make sure your employee handbook clearly outlines the policy. It's important that you provide your team with details on which days your practice is closed and how they will or will not be paid during that time. This includes medical and dental practices that are open on holidays for emergency appointments. Be as clear as possible to prevent any misunderstandings, conflicts, or employee claims.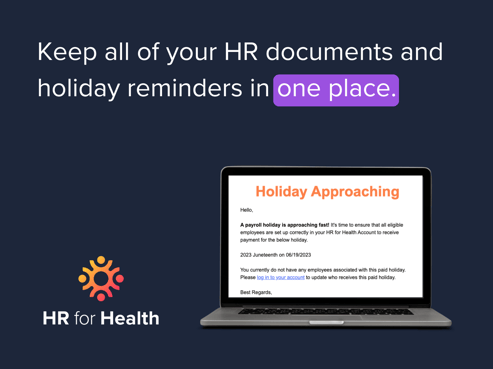 The 11 Federal Holidays Observed in 2023
Below is a list of the 11 federal holidays observed in the United States as of 2023. Be sure to take note of holidays that fall on a week day in case you want to close your office for additional time off.
Monday, January 2 — New Year's Day (observed)
Monday, January 16 — Martin Luther King, Jr., Day
Monday, February 20 — Presidents' Day
Monday, May 29 — Memorial Day
Monday, June 19 — Juneteenth
Tuesday, July 4 — Independence Day
Monday, September 4 — Labor Day
Monday, October 9 — Columbus Day
Friday, November 10 — Veterans Day
Thursday, November 23 — Thanksgiving Day
Monday, December 25 — Christmas Day
What You Need to Know About State Holidays
It's important to note that there is no requirement by law to observe federal holidays or pay employees when they take these days off. In general, the same sentiment applies to state holidays.
That being said, we still believe reviewing state laws and regulations related to paid holidays is critical. Why? Several states require certain types of businesses and industries to close on specified federal holidays. In fact, some states even require businesses to observe one or more state holidays and have legislation to protect these mandates.
Examples of state-specific holidays include (but are not limited to) the following:
January 16 — Robert E. Lee's Birthday observed in Alabama & Mississippi
February 13 — Lincoln's Birthday observed in Connecticut, Illinois, Missouri, & New York
February 20 — Daisy Gatson Bates Day observed in Arkansas
February 21 — Mardi Gras observed in Louisiana & parts of Alabama, Florida, & Mississippi
March 2 — Texas Independence Day observed in Texas
March 7 — Town Meeting Day observed in Vermont
March 31 — Cesar Chavez Day observed in parts of Arizona, California, Colorado, Michigan, New Mexico, Nevada, Texas, Utah, Washington, & Wisconsin
April 17 — Emancipation Day observed in D.C.
April 17 — Patriot's Day observed in Maine & Massachusetts
April 28 — Arbor Day observed in Nebraska
May 10 — Confederate Memorial Day observed in South Carolina
June 20 — West Virginia Day observed in West Virginia
July 24 — Pioneer Day observed in Utah
August 14 — Victory Day observed in Rhode Island
August 16 — Bennington Battle Day observed in Vermont
October 9 — Indigenous People's Day observed in 28 states
October 18 — Alaska Day observed in Alaska
November 7 — Election Day observed in New Jersey & Virginia
December 1 — Rosa Parks Day observed in Alabama
Be sure to add any of these local or state holidays to your office calendar as applicable.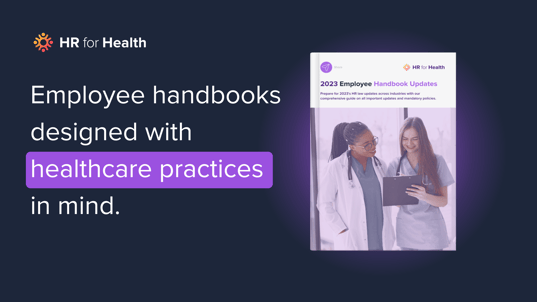 More Ways to Celebrate with Your Team: 2023 Unofficial Holidays
Looking for more ways to celebrate with your team in 2023? There are a number of unofficial dates that aren't considered federal holidays but are still worth putting on the calendar. After all, who doesn't want an excuse to celebrate? Check out some of the most popular unofficial holidays here:
Thursday, February 2 — Groundhog Day
Tuesday, February 14 — Valentine's Day ❤️
Wednesday, March 8 — International Women's Day
Friday, March 17 — Saint Patrick's Day ☘️
Wednesday, April 26 — Administrative Professionals' Day
Friday, May 5 — Cinco de Mayo
Sunday, May 14 — Mother's Day 🌷
Thursday, May 18 — National Speech Pathologist Day
Wednesday, June 14 — Flag Day
Sunday, June 18 — Father's Day
Sunday, September 10 — Grandparent's Day 👴👵
Friday, October 6 — Physician Assistant Day
Monday, October 16 — National Boss' Day
Tuesday, October 31 — Halloween 🎃
Friday, November 24 — Black Friday 💰
Thursday, December 7 — Pearl Harbor Remembrance Day
It's important for office managers and practice owners to note the dates of any major religious holidays in 2023. A team member may need to take time off and it's your responsibility as an employer to know the right way to accommodate them.
According to Title VII of the Civil Rights Act of 1964, it's mandatory for you to make accommodations for sincerely held religious beliefs, unless it would cause undue hardship to your practice.
Looking for More HR Help?
The experienced HR professionals with HR for Health can help you navigate the complexities of federal and state holiday regulations. If you're struggling with PTO, paperwork, calculating overtime, or distributing benefits, let HR for Health help. Reach out to us today.