Pregnant Worker Fairness Act: What You Need to Know & How HR for Health Can Help Level Up Your Documentation Game
When it comes to fairly managing pregnant employees, documentation is your BFF.
Seriously though... we all know that compliance and protection for employees is important. But, we also know the laws and regulations around this topic can be complicated and confusing.
This webinar covers information vital to understanding the rights of both employers and employees under this new law. And yes, you guessed it, we're going to give you the full run down on HR documentation best practices! Think of documentation as your practice's (ahem) protection. Use it.
Fill out this form to watch the video on-demand
New Hire Onboarding
Simplified onboarding process with electronic signatures

Automatic updates for state and federal forms

Customizable new hire checklist with optional documents



Employee NHC
Review and manage completed documents at the employee level
Job Descriptions
Assign industry-specific job descriptions to employees

Employees can review and confirm their job description within the platform
Documents
Management document vault for secure storage and organization

Permissions feature to control access to sensitive documents



Separation Documents
Access to necessary separation documents for employee terminations or resignations
Did You Know Segment
Notes feature for documenting conversations and interactions
Join us in this webinar to learn how HR for Health can help you improve your records retention process, save time, and focus on what matters most - your patients. Register now!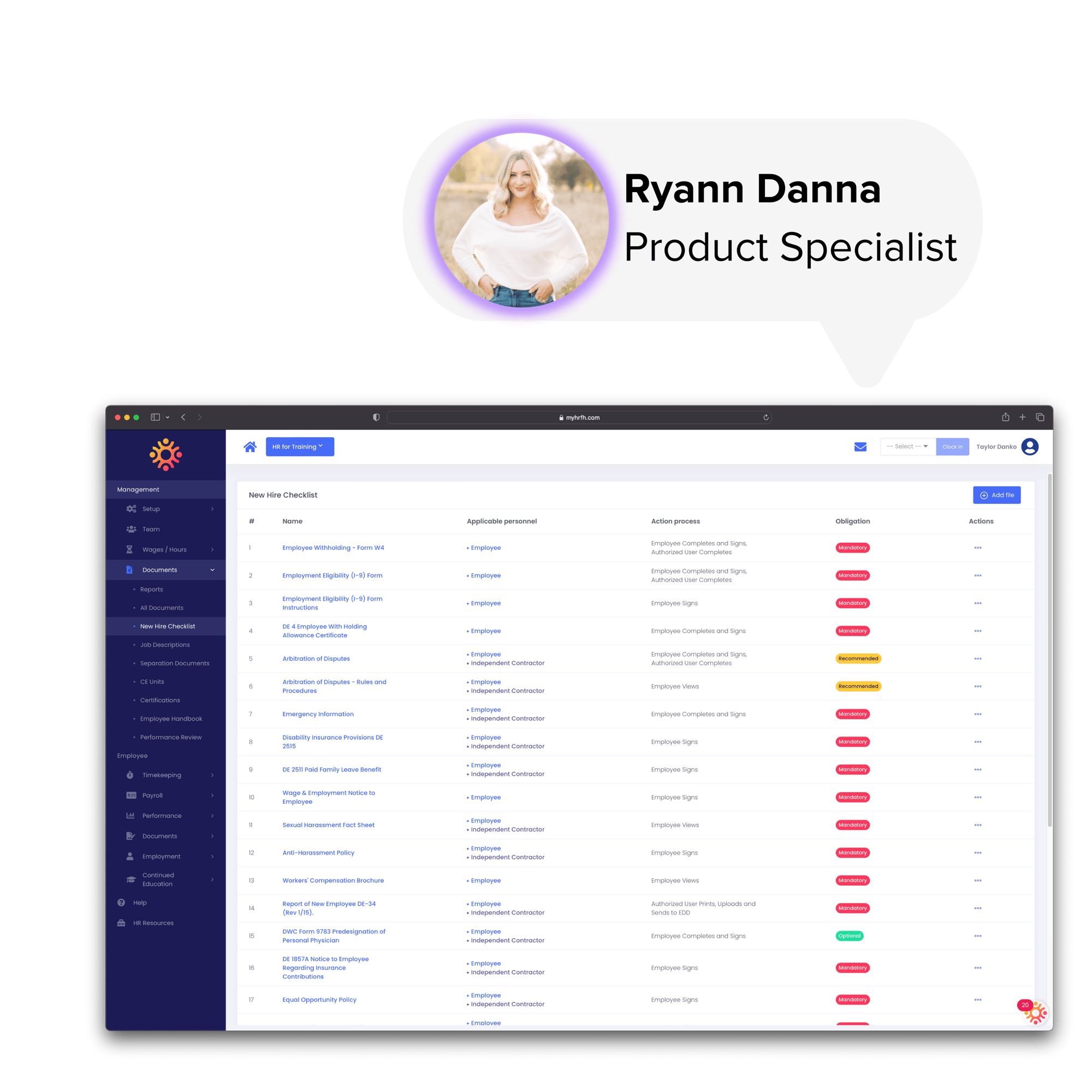 What we will cover:
New Hire Onboarding
HR for Health simplifies the onboarding process by providing electronic forms that autofill with the employee's information. The platform ensures that all federal and state mandatory, recommended, and optional documents are included in the new hire checklist. Additionally, users can add their onboarding documents and have employees electronically sign them.
Handbook
HR for Health's handbook software creates a custom, state-compliant handbook based on a questionnaire. The platform offers automatic law updates, ensuring new policies are added as needed.
Employee New Hire Checklist (NHC)
The employee NHC allows users to review completed documents, mark them as complete, and take action on any documents requiring attention.
Job Descriptions
HR for Health provides industry-specific job descriptions that can be assigned to employees before they are added to the platform. Employees must review and confirm their job description upon registration.
Document Storage
HR for Health offers two document storage features: the Management Document Vault and the Employee Level Document Feature. The Management Document Vault allows users to store and organize office documents, employee forms, and former employee forms. The Employee Level Document Feature stores specific employee documents.
Permissions
HR for Health's permissions feature allows users to assign specific permissions to manage different components within the software, ensuring the confidentiality and protection of documents.
Separation Documents
HR for Health provides necessary separation documents for employee termination or resignation, which can be filtered by applicable personnel, employee count, separation type, and obligation.
Demo
The webinar includes demonstrations of:
Accepting the new pregnancy leave document onto the NHC.

Exploring the documents section, including filters, searching for a handbook, and creating a folder.

Creating a permissions profile to approve time off/timekeeping but restrict document access.

Introducing the new resource center with law updates and FAQs.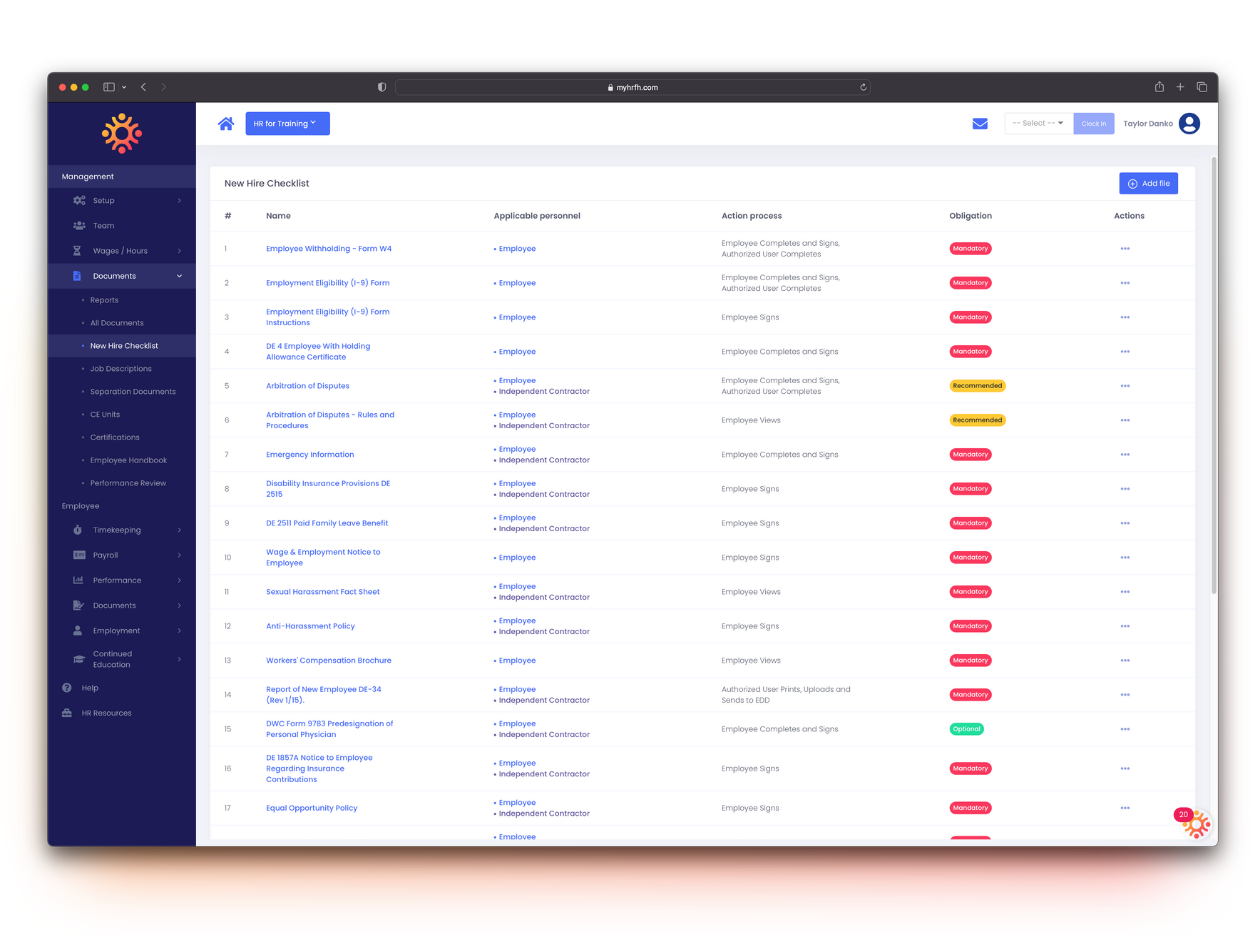 Ryann Danna, Product Specialist
As an HR software expert and a vital member of the HR for Health team, Ryann is skilled at increasing efficiency and effectiveness for our healthcare customers. Her secret weapon? Putting HR on autopilot with HR for Health's software.

When she isn't working her HR software magic, you can find Ryann with her twins, visiting Disneyland or trying to forget the one time Dennis Rodman hit on her in Newport Beach.