Your HR Survival Toolkit awaits: Simplify Hiring and Compliance.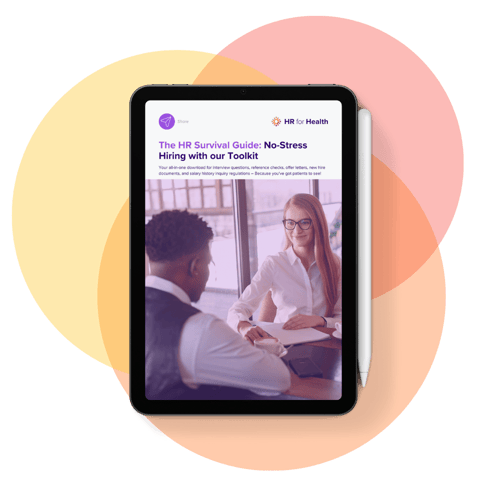 The worlds of recruitment and human resources are fraught with challenges, overflowing with intricate details that must be perfectly managed. And we understand that amidst these complexities, your time is best dedicated to your primary goal: offering optimal care to your clients.
That's why we introduce you to The HR Survival Guide: No-Stress Hiring with our Toolkit, your comprehensive download packed with resources to streamline your hiring processes.


Your All-in-One Download
Interview Questions, Reference Checks, Offer Letters, New Hire Documents, and Salary History Inquiry Regulations – Because You've Got Patients to See!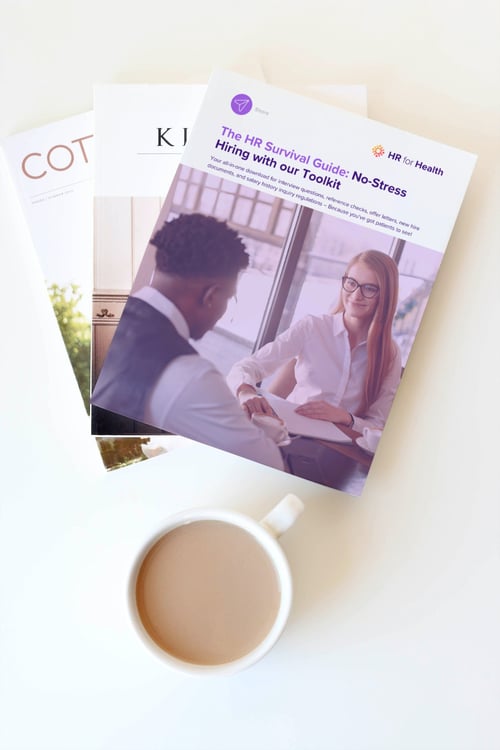 Tailored Interview Questions

Understand the dos and don'ts of interviewing, with inclusive and insightful questions that help you identify the ideal candidates for your organization, along with considerations on what not to ask.

Reference Check Template

Help facilitate accurate, consistent reference checks. Our design ensures you remain fair and effective across all applicants.

Offer Letter Template

Time-effective and foolproof, our offer letter template allows you to offer roles professionally while avoiding the stress that comes with drafting from scratch.

Federal New Hire Document Checklist

Stay organized and on top of all necessary documentation. Our checklist ensures you will never miss a file during onboarding.

List of States with Salary History Inquiry Regulations

Stay compliant and normalize transparency with our list of states, a very crucial detail that every HR practitioner should be aware of.
Your patients are waiting, and we're here to help you get back to them quicker with our No-Stress HR Hiring Toolkit.
We know there's a lot on your plate, and our mission is to deal with the paperwork while you deliver great care.
This toolkit has been meticulously curated with the goal to simplify the entire hiring process – it's about providing a hassle-free, efficient means of making the wonderful possible: hiring the right talent and growing your team.