Top 8 HR Management Softwares in 2023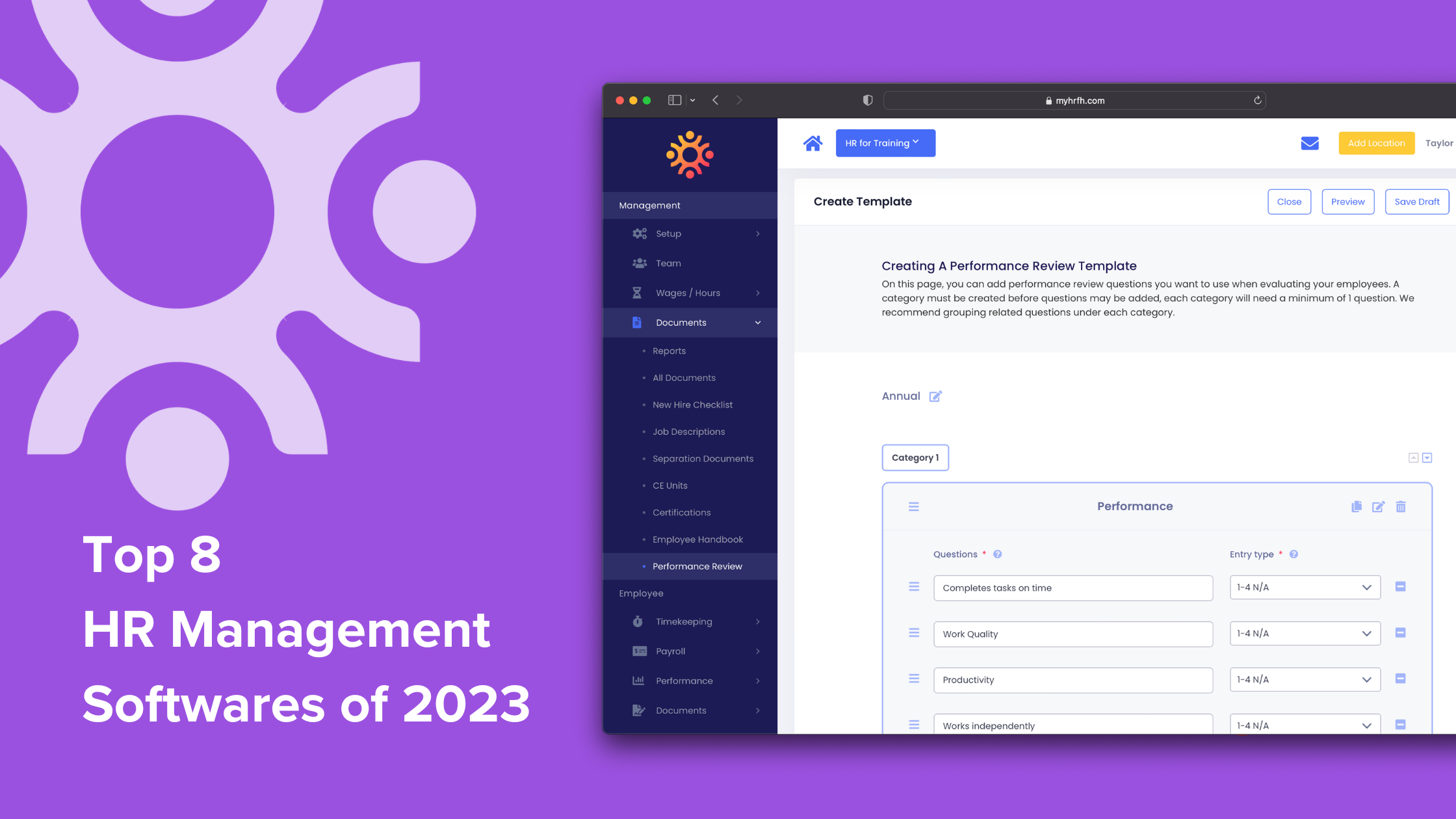 Don't let outdated HR software hold your healthcare practice back. Upgrade to HR for Health and experience the benefits of a comprehensive HR solution designed specifically for your industry.
What is an HR Management Software?
An HR management software is a tool that helps businesses manage their human resources, from hiring to employee data management. It is designed to streamline HR processes, improve efficiency, and enhance employee engagement. Here are some key points to consider:
HR management software can automate recruitment, onboarding, performance management, and payroll processing tasks.
The software can also provide analytics and reports on HR data, such as employee turnover, performance trends, and workforce diversity.
HR management software can be hosted on-premise or in the cloud, depending on the business's needs and budget.
Some HR management software also includes features such as employee self-service portals, mobile apps, and integrations with other business systems.
Choosing the right HR management software is important for businesses to ensure they maximize the tool's benefits and meet their HR needs.
Why We Care
We understand that investing in software can be daunting, so we want to ensure you feel confident and informed throughout the process. Our commitment to dental and healthcare practices is unwavering, and we guarantee that our software will meet your needs. It's important to us that we educate our audience without being condescending or complicated. By reading this article, we hope you feel empowered, informed, and excited to purchase software that will keep your team and practice legally compliant.
#1 - HR for Health: The Ultimate HR, Payroll, and 401(k) Solution Built for Healthcare Practices
As the only software solely committed to safeguarding medical and dental practices nationwide, HR for Health offers a compliance-forward HR solution designed to meet the unique needs of healthcare practices. Are you ready to upgrade your HR software?
At HR for Health, we make it our priority to provide business owners with the tools they need to improve their practice while avoiding legal complications. With HR for Health, you can handle employee conflicts, claims, or poor performance with ease and confidence, knowing you have a reliable compliance solution.
Our platform specializes in assisting medical and dental practices with daily HR tasks while ensuring legal compliance, including:
Payroll

Timekeeping

Cloud-Based Documentation

Employee Performance

Hiring and Termination

Customized Employee Handbook
Upgrade your HR software with HR for Health and use our comprehensive HR solutions for healthcare practices.
#2 - Namely: A Comprehensive HR Management System for Your Business
Namely is a powerful HR management system that goes above and beyond core HR functionalities. This platform helps businesses streamline their HR procedures and remain compliant. Over 1,400 organizations trust Namely to deliver essential features like employee onboarding, talent management, time and attendance, recruiting, analytics, employee management, and more – all on one platform.
What sets Namely apart is its focus on employee engagement. Staff members can access all the HR information they need from a user-friendly portal. Namely's self-service option makes it a great choice for mid-sized organizations with engaged employees.
Namely's core HR features include task lists, time off tracking, performance and goal tracking, custom workflows and approvals, employee and manager self-service, compliance database, and electronic signature. Choose Namely for an all-in-one HR solution that simplifies and enhances HR management.
#3 - BambooHR: A Top Choice in HR SaaS Software for Small to Midsize Businesses
BambooHR is a cloud-based platform that can be a game changer for small to midsize companies with up to 1000 employees. It offers an array of features, including integrated payroll, an applicant tracking system (ATS), electronic signatures, and time-off tracking. Other highlights of the software are:
Advanced reporting and analytics capabilities
A mobile hiring app for added convenience
Onboarding and offboarding tools to ease the process
Paid time off (PTO) tracking
Employee well-being features
One of the reasons BambooHR is so popular is because of its ease of use for employees. The mobile app allows for efficient reporting, which can save time and effort. If your HR team is tired of using spreadsheets and looking for an all-in-one solution to manage HR data, BambooHR may be the perfect fit.
#4 - Rippling
Rippling offers a range of features that can help streamline HR processes and improve overall efficiency. Here are some of the key features that can make a big difference in your day-to-day operations:
By using Rippling for your HR needs, you'll save time and effort and improve the overall employee experience. With its comprehensive features and user-friendly interface, Rippling is a great choice for businesses of all sizes looking to streamline their HR processes.
#5 - Workday: The All-In-One HR Software Solution
Workday sets itself apart from other HR software options by providing a comprehensive finance, HR, and planning system. This versatile tool is trusted by major players such as Salesforce, Toyota, Visa, Target, and Adobe and is employed by various industries.
Workday streamlines HR processes while keeping an eye on your bottom line. It offers solutions for spend management, talent management, enterprise planning, workforce management, payroll, and more. Additionally, Workday is relatively user-friendly, providing features such as time-tracking tools, self-service options, employee directories, advanced analytics, and machine learning to identify employee skills. With compensation and benefits administration also included, Workday is the ultimate all-in-one HR software solution.
#6 - Zenefits: The HR Software Platform for Benefits Administration, Payroll and Talent Management

Zenefits is a popular HR software platform that offers a variety of features, including benefits administration, payroll, and talent management. Beyond the standard health insurance packages, Zenefits assists businesses in finding comprehensive benefits packages. With a focus on employee self-service, Zenefits provides an excellent user experience throughout the benefits enrollment process. Although businesses of any size can use Zenefits, those offering health insurance and other employee benefits will reap the greatest benefits from this software.
If you're considering Zenefits for your business, here are some additional benefits and features you might want to know:
Zenefits integrates with popular payroll systems such as QuickBooks and Gusto, making it easier to manage payroll and benefits in one place.

The software also offers compliance assistance, helping businesses stay updated with federal and state regulations.

Zenefits has a mobile app, that allows employees to access their benefits and HR information on the go.

In addition to benefits administration and payroll, Zenefits also offers tools for performance management, time and attendance tracking, and onboarding new employees.

The platform has a user-friendly interface and offers excellent customer support, making it easy for businesses to navigate and utilize all its features.
Overall, Zenefits is a comprehensive HR software solution that can streamline many aspects of managing employee benefits and HR tasks for businesses of any size.
#7 - Gusto: The Online HR Software for Small Businesses

Gusto is an online HR software designed to streamline HR management workflows for small businesses. With core HR functions at its core, it ensures that employee satisfaction is a top priority within a narrow scale that is perfect for small businesses.
Not only does Gusto excel at payroll management for small and midsize businesses, but its well-working payroll processing system also covers tax filing and direct deposit, leaving no room for compliance risks.
Some of its key features include compensation management, employee onboarding, a self-service portal, and time off and benefits management. However, it's important to note that Gusto doesn't have 360-degree feedback, recruitment management, and applicant tracking features.
#8 - Bambee HR: The Optimal Solution for Small Businesses' HR Needs

Bambee HR's software plans are tailored to support startups and small businesses in navigating HR complexities and compliance issues. Here are some additional benefits of using Bambee HR:
Bambee HR provides personalized HR support to businesses by providing a dedicated HR manager who understands their needs and can help them create customized HR policies and job descriptions.
The software also helps businesses navigate sensitive HR processes, such as employee terminations in a compliant manner, reducing legal and regulatory compliance risks.
Bambee HR's plans include ACA-compliant employee benefits, which can help companies attract and retain top talent while staying compliant with healthcare regulations.
With Bambee HR, businesses can stay up-to-date with changing HR regulations and requirements, ensuring compliance with state and federal regulations.
Overall, Bambee HR's software plans offer small businesses a cost-effective solution for managing their HR needs while mitigating risks associated with compliance and regulation.
Why You Should Choose Us
With HR for Health, you can streamline your HR processes and ensure compliance with healthcare regulations. Let's recap what we can offer you:
Designed specifically for healthcare practices

Customizable onboarding to improve employee retention and satisfaction

Time-keeping geolocation tracking, calculations and weighted averages, and overtime alerts

Automatic payroll and 401k solution

Robust reporting capabilities to help you make data-driven decisions

Integration with payroll and benefits systems for seamless administration

Expert support from our team of HR and healthcare industry professionals

Employee Handbook customized and compliant to your industry's needs
Don't let outdated HR software hold your healthcare practice back. Upgrade to HR for Health and experience the benefits of a comprehensive HR solution designed specifically for your industry.
How HR for Health Can Help
Ready to get started with HR for Health? Contact us today to set up a fifteen-minute consultation and learn more about how HR for Health can help your practice grow and protect you from various HR challenges.