New Year, New HR Checklist: Staying Compliant in 2023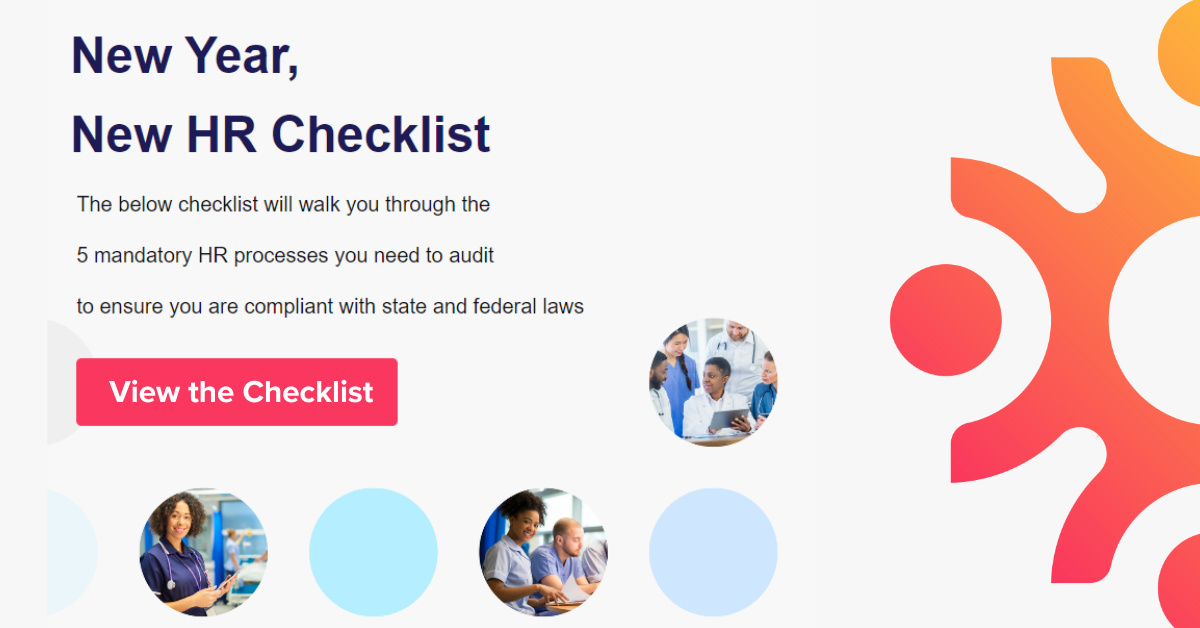 Compliance with 2023 federal and state laws can be a complex task, so it's great that you're considering ways to audit your dental, optometry, or other healthcare practice to ensure you're fully adhering to the latest regulations.
Here are five specific areas you should audit. Think of it as your "HR Checklist" for 2023:
1. Update your handbook to include any new laws that have been enacted since the last time you updated it.
Updating your employee handbook for 2023 is an important step to ensure that your practice is meeting the latest legal requirements and providing a safe, equitable, and productive environment for your employees.
Having an up-to-date employee handbook can help reduce liability risks, ensure compliance with applicable laws and regulations, and ensure that all relevant policies and procedures are clearly communicated to your staff. It can also help you maintain a consistent and unified approach to employee management and ensure that everyone is on the same page, no matter where they are in the organization. Taking the time to review and update your employee handbook every few years is an essential part of creating an effective and compliant workplace.
2. Check that the minimum wage you are paying employees is up to date with the latest city/state requirements.
Checking your minimum wage requirements is important to ensure that you are complying with all applicable laws and regulations.
Additionally, by understanding your minimum wage requirements, you can ensure that your employees are being fairly compensated for their work, and that you are not putting your practice at risk of being fined or sued. Furthermore, staying up to date on minimum wage requirements can help you to budget appropriately and keep your practice running smoothly.
3. Ensure that you are using the most current version of federal, state, and practice-specific documents when completing new hire checklists.
Having the most current version of new hire paperwork is important because it ensures that all of the information that you provide is up-to-date and compliant with current local and federal laws. Additionally, having the most recent version of the paperwork helps you to ensure that your employees are receiving the most accurate and up-to-date information regarding their rights and responsibilities as an employee. Keeping your paperwork up-to-date also helps to ensure that your company is compliant with all applicable laws and regulations.
4. Verify that any certifications and training your employees have completed are not expired.
Verifying that employee certifications are up to date and not expired is important for ensuring that the company is compliant with any relevant industry regulations and standards. It also ensures that employees have the necessary knowledge and skills to perform their job duties safely and effectively. Additionally, staying up to date on certifications shows a commitment by the employee to their profession and demonstrates a dedication to continued professional growth.
5. Double check that employee classifications are accurate and that overtime is being paid appropriately.
Classifying employees correctly and paying overtime appropriately is essential for any business to ensure compliance with labor laws and regulations. It is also important to maintain employee morale and satisfaction, as well as to avoid potential legal issues.
Properly classifying employees and paying overtime helps to protect employees from potential exploitation and unfair treatment. It also ensures that employees are paid a fair rate for their work and are compensated fairly for any extra hours they may work beyond their regular schedule. By properly classifying employees and paying overtime, practice owners can avoid costly fines, penalties, and legal proceedings that may arise from improper classification or overtime payment.
How HR for Health Can Help
HR for Health can help with your 2023 compliance audit by providing you with the necessary resources and guidance to ensure that your organization meets the relevant compliance standards. Our all-in-one software solution provides you with an always-up-to-date employee handbook customized to your state and industry, automated timekeeping system, securely stored employee documents, and more.
HR for Health's experienced HR professionals also provide you with advice on best practices for managing and documenting your compliance efforts and ensuring that your organization stays compliant. With our help, you can be confident that your organization is meeting the requirements of the law and is well-prepared for the upcoming compliance audit.
If you have questions, please schedule an HR consultation with us by booking time here or calling us at (888) 316-9284.