10 Tips to Throw a Great Holiday Party - WITHOUT Breaking Any Laws!
The end of 2022 is here away and it's time to think about organizing a holiday party. It's also time for office managers and dental, optometry, and medical practice owners to navigate the potential legal minefield of throwing a party.
Getting together to relax and enjoy everyone's company safely outside of the practice is fun and can be a great time.
On the other hand, it's not like throwing a party for friends and family. It's work, but not work. Here are ten tips to consider that will help you navigate the minefield and throw a memorable party for your team without breaking any laws.
1. Save the Date Early
The holidays get busy quickly, so do your employees a favor by sending out an email with the date and time of the party as early as you can.
Recommended Resource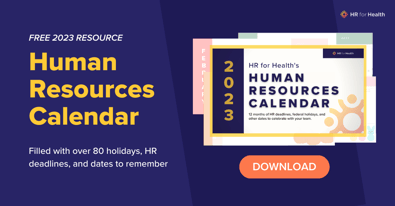 2. Make the Time and Location Convenient for All Employees
If you're throwing a party, you want your employees to be able to attend, so be inclusive and make it convenient! Make sure to make accommodations for employees with disabilities, employees who don't observe the holiday, and employees who may work remotely or from a satellite location.
Additionally, if you know that many of your employees have families and would require childcare, you may want to consider holding the event during working hours.
Alternatively, you could host a family-friendly event and plan activities that adults AND kids will enjoy (or provide childcare so the adults can enjoy themselves without minding their children). Even if the kids aren't invited, avoid any offensive or risqué entertainment. Your bash can be both festive and professional.
Recommended Reading
2023 Paid Holidays: What You Need to Know for your Dental, Optometry, or Medical Practice
3. Avoid Obvious Religious References
A truly great celebration is inclusive and takes into consideration employees with differing beliefs. Your party should create an atmosphere that is spirited but not overly religious. It's a good idea to avoid religious music and entertainment as well as holiday decorations (e.g., Nativity scenes, menorahs, etc.) that could be viewed as offensive to some employees and lead to claims of religious discrimination.
4. Booze or No Booze?
What says holiday cheer more than hoisting a glass and saying "Cheers!"? Serving alcohol at your event can be lighthearted and festive. It can also be a disaster. It doesn't take much imagination to conjure images of over-served employees and potential injuries, discrimination, harassment, and inappropriate conduct. Consider this decision carefully.
If you do decide to serve alcohol, designate a member of your dental, optometry, or healthcare practice's management team or someone at the venue to monitor employees' alcohol intake. You can provide tickets or coupons to limit the number of drinks employees can have. Make sure that all employees are completely sober before getting behind the wheel to drive (you can even buy a breathalyzer from Amazon) and encourage designated drivers. As a practice owner and employer, you may be liable for negligence if an intoxicated employee leaves the event and injures a third party or damages a third party's property.
Pro tip: Serve water and coffee towards the end of night, and encourage everyone to drink water throughout the event. This will not only ensure you are doing your part to help everyone stay hydrated, but will also allow some time for you to mingle with your staff and gauge their state prior to them leaving.
Another tip: Don't hesitate to call an Uber or a cab for an intoxicated employee.
5. Take Wage and Hour Issues Into Account
Attendance at your dental, optometry, or healthcare practice's holiday celebrations should never be mandatory. This will create wage and hour issues that may entitle nonexempt employees to compensation for time spent at the event, including overtime. Additionally, some employees may not celebrate the season, which can inadvertently open your practice up to religious discrimination or harassment claims.
Recommended Resource 📩
6. Before the Party, Give Your Practice's Employees a Refresher Regarding Conduct, Discrimination, and Harassment
Look, we're all adults and it's not fair to assume that your employees will break the rules just because you're hosting a holiday party. However, it is always a good idea to remind your team prior to the event that all discrimination, harassment, and any other conduct policies are in full effect, and all team members are unconditionally responsible for their actions. This will ensure you are again exercising due diligence to avert unprofessional behavior while holding your staff accountable. Furthermore, you can provide training and leadership to your practice's manager(s) to ensure that they set an example at any workplace event for other employees -- like definitely not hitting on the intern.
7. Respond Promptly to Any Complaints
Odds are, your holiday party will end without incident. However, take immediate action if any complaints do arise. Document the complaint. Then follow up with a thorough investigation by interviewing all potential witnesses before evaluating the facts and coming to a reasonable conclusion regarding what happened. Don't hesitate to impose appropriate disciplinary measures, just as you would for any other day at your dental, optometry, or healthcare practice.
8. What's On the Menu?
Are you going to serve a buffet or a sit-down dinner (or lunch)? Or are you only having a selection of nibbles and appetizers? However you decide to feed your party-goers, consider employees' (and their families', if invited) dietary restrictions. Include kosher foods, non-pork items, gluten-free, and vegetarian options as needed. The CDC has guidance for food safety.
9. Plan Activities
To avoid sitting around and having everyone just staring at each other -- or chugging drinks -- plan some activities. A few ideas:
Scavenger hunt: Depending on the size of your practice, break everyone into teams (and do it randomly to encourage any cliques to interact with others).

Festive outfit contest: Whoever has the most festive holiday outfits wins.

Do something for charity: Build a bike or pack food boxes for local charities.

Karaoke: It's a sing off. Channel your inner diva.

Gift exchange: Secret Santa is often a boring and nerve-wracking event. There are plenty of fun gift-giving games where you can open, steal, and trade gifts. Here's a list of 12.
Recommended Reading 📃
Year-End Bonuses: The Essential Guide to Cutting a Bonus Check
10. Enjoy Yourself and Have Fun!
Worrying about all the legal stuff behind the scenes, can be a buzzkill. As a practice owner or office manager putting a party together, it's easy to get wrapped up in the negative of "what could go wrong." Don't do that. Social events are a great way to build camaraderie in your dental, optometry, or healthcare practice. So that you can have fun and celebrate the holidays without stress (or with as little stress as possible!), we're here for you.
Run your party plan by the HR for Health team today. We'll spot any potential areas of concern so that your event is successful and a good time is had by all.
Regardless of how you decide to plan your holiday parties this year, here's an example of at least one thing to avoid, courtesy of the movie Office Christmas Party:
About HR for Health
HR for Health is an all-in-one HR software solution dedicated to helping the dental, optometry, and veterinary industries. Our human resources platform features all the tools practice owners need to manage payroll, timekeeping, 401(k), and more with total integration and ease.
Whether you're looking for HR support for a small business or you're a large group dental practice, HR for Health has the solution to fit your practice and budget.