6 Highly Effective Ways to Motivate Your Employees
UPDATED 11/23/2023 - Employee motivation is essential to your practice, whether you are a dental, veterinary, optometry, or any other healthcare practice owner. Motivated employees work harder, are more creative, and stay longer with your practice.
Engaged, motivated employees are more likely to be attentive to your patients and their needs. Check out our six current tips on how to motivate employees.
1. Let Them Know You Trust Them
Building trust in your practice is essential if you want a positive workplace. Trust creates a space of emotional safety where employees are productive and can give your patients their best care.
The question, however, is how to create that trust in your practice. Building trust in your practice starts with open communication, being forthright, and empowering your employees. An example of this is letting them make independent decisions within the scope of their job description and valuing their opinions.
Open and Transparent Communication
Open and transparent communication is an essential way to motivate employees and build trust in your practice. What is open and transparent communication? Transparent and open employee communication is sharing thoughts, news, feedback and other communication in a direct yet professional and respectful manner. It fosters a collaborative environment. Employees should be able to work together, ask for help, and exchange ideas.
This should ideally start from the management, where you are transparent with your employees about what is happening at your practice. Remaining open and receptive to employee suggestions, ideas and concerns, even if you disagree, also creates a better practice for your patients.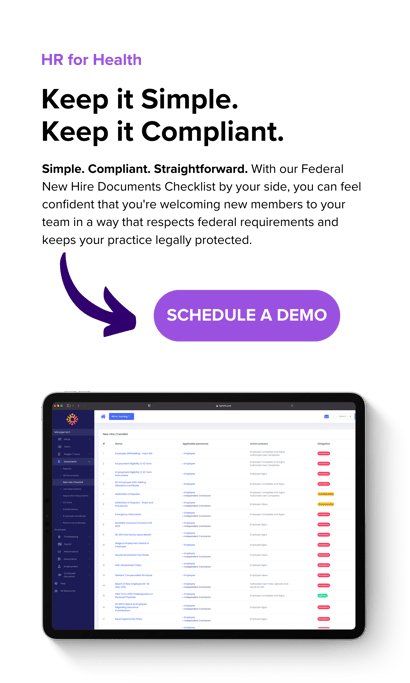 Follow-through
Doing as you say you will is a crucial part of building trust. More importantly, doing as you say you will helps you comply with human resources policies. Adhering to the practice's mission and human resources policies motivates employees to do the same. For example, you might say you will do a performance review for an employee, set and meet a date for the review.
Autonomy
Trusting your employees to make decisions independently is essential to retaining great employees. Trust and autonomy help your employees better serve your patients and communicate with you about patient needs. With autonomy, employees see their work as collaborative and worthwhile, which motivates them to work at their best to care for patients.
2. Give Your Employees Purpose
Giving your employees purpose is important for several reasons. Motivated employees mean increased productivity at your practice, and more employees who are willing to stay longer. It's an essential foundation for them to be emotionally invested in the work they do. Show your employees that your practice has a higher purpose than just profit. An example is showing how much your employees mean to your patients and the standard of patient care.
The work you expect from your employees should reflect the guidelines in the employee handbook. Furthermore, you should lead by example by following handbook guidelines. Consistent expectations for your employees and for yourself create a healthy practice environment. You create purpose by showing your employees you uphold the same values as you expect from them.
HR for Health's performance reviews tool is great for achieving the objectives of performance and development goals. You can use our plans for:
New Hire Performance and Developmental Goals
Providing Additional Support to New Hires that may be Struggling
Goal Setting conversations with Mentor(s)
New hires in your practice sometimes need encouragement and help in setting performance and developmental goals. With our plans, a new hire can map a path to understanding your practice's mission, the performance expectations of the job role, and goals for developing a career in your practice.
Dealing with Underperformance
Sometimes valued employees underperform. While they bring talent and skills to their role, they may not be on the same page with your practice's mission and goals. Our developmental plans help steer a valuable employee to better understand performance goals and your practice's needs.
Working on Performance Aspects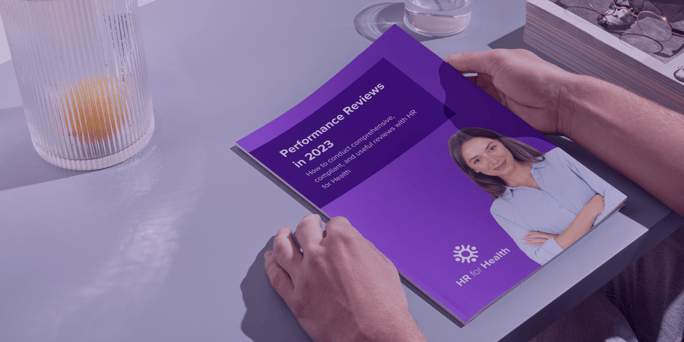 Our performance reviews can help employees work on aspects of their performance. Examples can be related to technical or other skills. We can also give employees a path forward with their career aspirations by working on aspects of their performance.
3. Focus on Training and Growth
To motivate your employees to grow, it is essential to focus on their training and growth. Our HR software can house all your training documentation, so retaining this information for future reference is easy, accurate, and accessible. Regular feedback is also essential, so employees know if they are gaining progress or need further assistance.
Our kudos feature is an effortless way to recognize employees for milestones and jobs well done. We can help you incorporate growth in your annual performance review process. With our templates, you can set goals for employees centered around elements for growth.
4. Create a Healthy and Pleasant Work Environment
A healthy practice is one that encourages respect for everyone. Each practice employee should be aware of your handbook regulations concerning conduct in your practice. Following handbook conduct regulations in your practice gives your employees an emotionally healthy environment. An emotionally healthy practice environment is good for your clients because employees can focus better on delivering care. Your employees pay better attention to your patients and are more compliant with state and federal regulatory requirements, if they understand and follow your handbook guidelines. This is critical to employee and patient safety, especially with COVID safety measures. Our software helps you deliver a positive work environment with updated handbook guidelines while meeting regulatory requirements.
Recommended Reading: What is Employee Engagement? And Why You Should Care?
5. Recognize Achievements
Employee recognition is not the same for everyone. Customizing your employee recognition is essential to treating your employees as individuals. While it is important to value employees for meeting performance metrics, recognition of behaviors that contribute to the team is essential. Some behaviors you can recognize are:
Employees who acknowledge others for their contributions to the team or practice
Effective communication that encourages sharing of information
Behaviors that demonstrate employees understand their team's objectives collaboratively
Motivate Individuals Rather Than the Team
Teamwork is important, but it's the individual that matters when you want to motivate employees. For your employees to feel appreciated and motivated, they need to feel they matter as themselves–not just as part of a team. Our HR software gives you the tools to help each person and your team. Employee motivation is not something that is a one-size-fits-all situation. Understand your employees as individuals with individual talents, skills, and reasons for working. A personal approach is useful such as a handwritten note, an email acknowledging their contributions to the team, and coaching them through a project. For bonuses, these should be clearly stated in the human resources policies, and our software can help manage payments.
How HR for Health Can Help
Our software is the perfect addition to helping practices motivate employees. Some features we offer are the development plan/performance review template, kudos feature for offering recognition, and cloud storage for easy retention of notes, performance feedback/conversations, and regulatory docs. The time saved on administrative HR tasks allows you to shift your priorities to the tasks primary to employee roles. Contact HR for Health.