The Top 5 Things We Learned About DSOs at the 2021 DSO Leadership Summit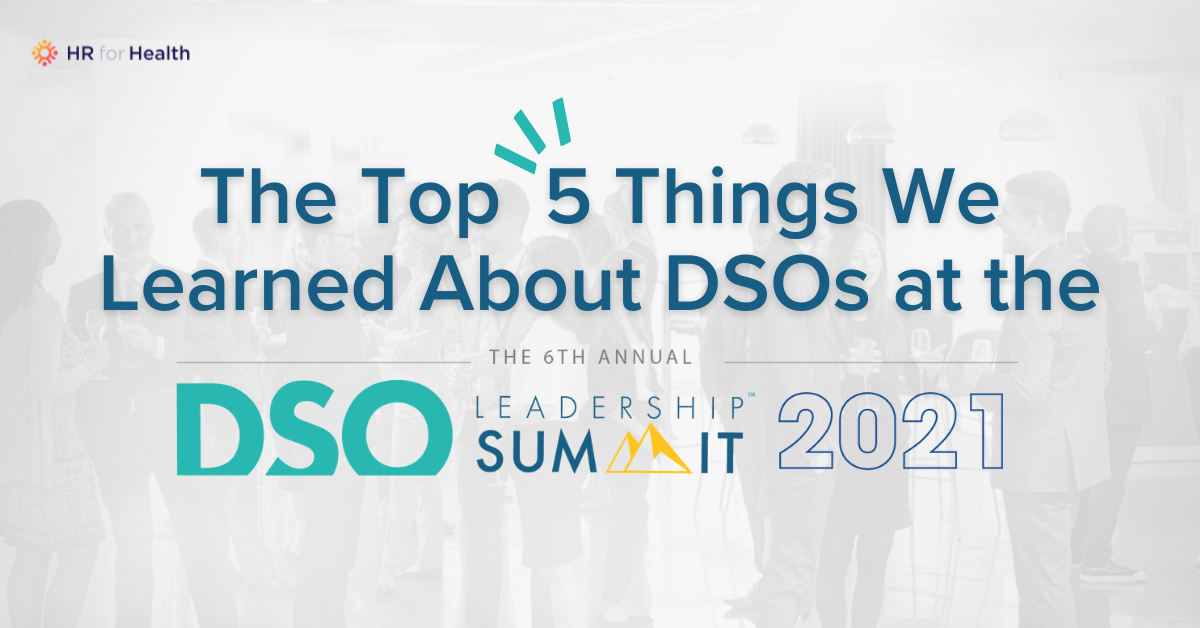 The HR for Health team just got back from the 2021 DSO Leadership Summit in sunny San Francisco, California. The successful event designed for group dental practices attracted over 280 attendees and featured live panel discussions, award ceremonies, networking, and more. After meeting hundreds of practice owners, there's a lot we learned and a lot we want to share! Here's the top 5 things we learned about group dental practices at the 2021 DSO Leadership Summit:
What We Learned About Group Dental Practices:
#1 Culture is 2021's Biggest Buzz Word
Practice culture is a big topic in the group dental space right now. Why? It has to do with the recent labor shortage and the scramble to retain employees. Now more than ever, DSOs see that having a positive office environment is essential to retaining top talent.
What's even more interesting is how and why these companies are making the switch to focus on culture. Little things like clear job descriptions, strategies for recruiting vs. promoting, on-the-job training, and more all play a part in boosting culture. It's all about improving internal processes and flexibility in the workplace to increase the overall value. In fact, we found that those who invested in their culture saw their practice's value increase by as much as 2 times the market rate.
In comparison, companies with a negative company culture were seen to be valued at as little as 2 times less than the market rate.
Companies with a negative company culture were seen to be valued at as little as 2 times less than the market rate.
#2 Flexibility in the Workplace is Key to Retention
It's no surprise that in the last 2 years we've seen a change in the way people work and view their jobs.
After a worldwide pandemic and new local, federal, and state mandates it's harder than ever to understand how to motivate and retain employees. At the 2021 DSO Leadership Summit, recruitment and retention were at the top of everyone's minds and we saw a lot of talk about flexibility in the workplace.
Not only is company culture key but group dental practices found that the flexibility to ensure a healthy work-life balance is what's going to attract and retain the talent your practice needs. It's all about understanding your candidates' motivations and in 2021 flexibility is the name of the game. The "war on talent" is here and the ball is in the employees' court.
#3 DSOs LOVE to Network
When we say Group Dental Practice's love to network...we seriously mean it. There may have been some armed guards that kicked people out at the end of the evenings! However, that's what makes DSOs great; they're better together and they know it! Networking, learning about new emerging groups, and sharing new ideas is the bread and butter of this industry.
We love bringing the industry together and it's why we put on a DSO Leadership Summit each year whether it can be in person or not! We're proud of creating a comfortable and safe space for groups to have intentional, even vulnerable, conversations that the whole industry can learn from. If you're interested in learning more about the upcoming 2022 DSO Leadership Summit, be sure to follow us on LinkedIn and Facebook so you'll be the first to know 2022 details!
#4 Emerging Groups Always Talk Finance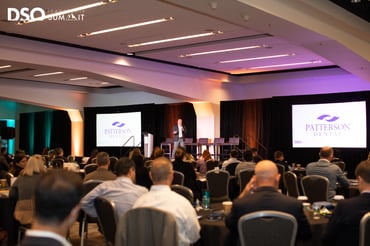 Finance is always a big topic of conversation in the DSO space. Mergers and acquisitions and cash vs. accrual accounting always seem to come up. What's more, we saw an increase in groups discussing creative financing strategies and found it's still of the utmost importance to emerging groups.
Growth is something so many DSOs strive for, so having resources and key opinion leaders on our panels was an essential piece of the puzzle.
#5 DSOs are Ready for Live Events!
With over 280 attendees, it's safe to say that DSOs are ready to attend live events again. Between the last-minute sponsors and ticket sales at the door, we were excited to see practices out and about again! After all, there's nothing quite like networking face-to-face and learning as a group. We are hoping to see this trend continue, and to see everyone's faces again next year!
Join us in Nashville October 6th-8th for the 2022 DSO Leadership Summit. Register here!