Software Upgrades: Your Guide to Automation and Efficiency
Join us for an exciting webinar where we'll reveal the latest updates and improvements that will make managing your team a breeze!
Sit back, relax, and let us guide you through the latest innovations that will transform the way you handle your dental and medical HR tasks. Our goal is to help you stay compliant and make employee management as simple and stress-free as possible.
Join us live on Wednesday, August 2nd at 2pm PT | 5pm ET. Don't fret if you can't make it, just register and we'll send you the recording.
In this webinar, we'll showcase the powerful innovations we've developed to make your dental and medical HR tasks a worry-free experience.
Agenda:
Introduction & Overview
New & Improved Features
HR Resource Center
In Case You Missed It
Q&A and Feedback
Features:
Automated Emails: Stay in the loop without lifting a finger
User Profile Preferences: Tailor the platform to your team's needs
Performance Review Templates: Keep track of employee success
Client Quotes: Discover how others have found our solutions invaluable
General Improvements: We'll cover updates on HB, Multi-Location, Timeclock, and Timesheet functions
HR Resource Center:
Law Updates: Stay up-to-date with the latest changes
Feature Releases: Be the first to know about new tools and resources
Support Resources: Get help whenever you need it
Feedback Survey: Your input drives our platform's evolution
In Case You Missed It:
We'll recap our recent updates on Benefit Resolutions.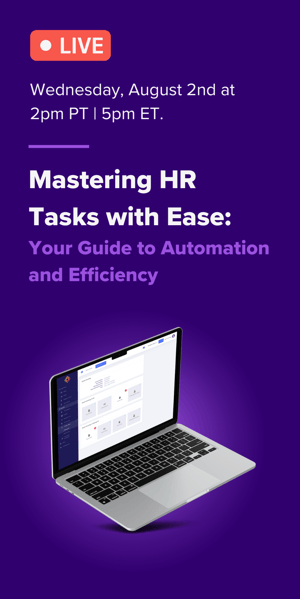 NEW GUIDE
Unlock the Power of Painless Performance Reviews
Are you tired of dreading performance reviews?
Uncover the insider secrets to streamlining, enhancing, and stress-free performance reviews with our all-encompassing and painless guide. Bursting with actionable strategies, practical tips, and step-by-step instructions, our guide simplifies the complex process of performance reviews into a breeze.