As the updated Pregnant Worker Fairness Act (PWFA) goes into effect, it's a great time to update the posters in your practice. Don't forget to educate your managers about reasonable accommodations for pregnant workers!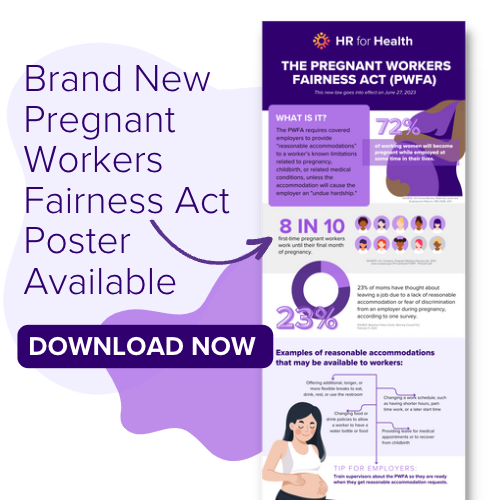 New Hire Onboarding
Simplified onboarding process with electronic signatures

Automatic updates for state and federal forms

Customizable new hire checklist with optional documents



Employee NHC
Review and manage completed documents at the employee level
Job Descriptions
Assign industry-specific job descriptions to employees

Employees can review and confirm their job description within the platform
Documents
Management document vault for secure storage and organization

Permissions feature to control access to sensitive documents



Separation Documents
Access to necessary separation documents for employee terminations or resignations
Did You Know Segment
Notes feature for documenting conversations and interactions
Join us in this webinar to learn how HR for Health can help you improve your records retention process, save time, and focus on what matters most - your patients. Register now!